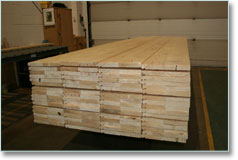 High speed edge laminating for furniture or joinery products produces a structurally stable and cost effective alternative to using solid section.

With the rising cost and difficulty in sourcing large section timber, utilisation of smaller sections bonded together to form bigger pieces is becoming more common place in woodworking.

The WOODS EP (Edge Press) Range of Laminators are capable of bonding sections from 12mm up to 250mm in thickness. With a huge range of bed sizes available, these presses can bond hardwood and softwood sections together.